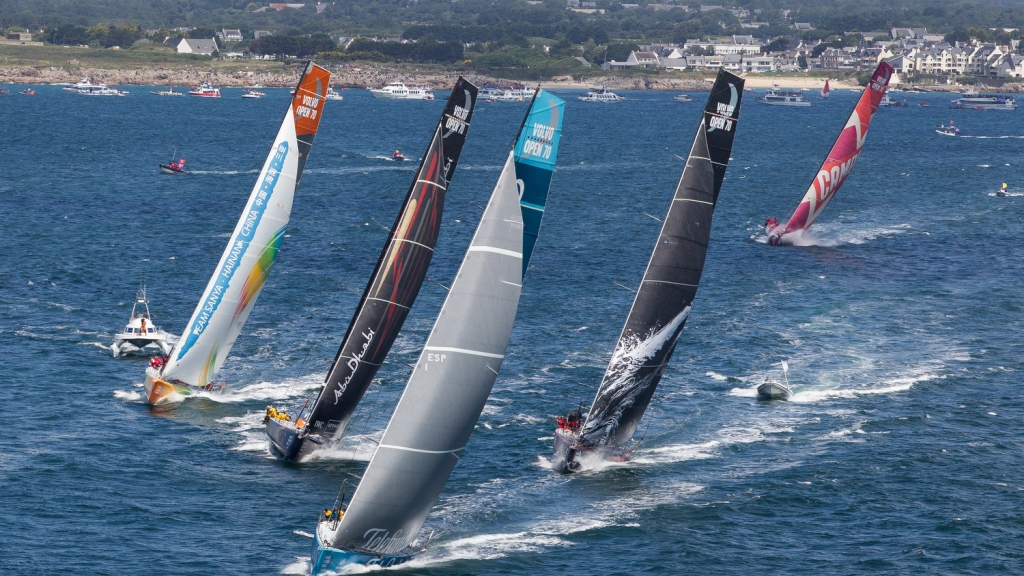 The fourth leg of the
Volvo Ocean Race
concluded in Hong Kong over the weekend with the crews arriving in that city for the very first time. It was a record setting win for the first team to arrive as well, although a shadow as cast over the race due to a collision that left one person dead.
A very motivated Team Sun Hung Kai/Scallwag claimed victory in their home country, becoming the very first boat to arrive in Hong Kong last Friday. They were later joined on the podium by Team Dongfeng, which claimed second place, with Team AkzoNobel finishing a strong third on Saturday.
It was quite an exciting leg for the winners, who made a bold tactical move coming out of the doldrums earlier than their competitors with the hopes of finding a stronger wind. That gamble ended up paying off, and they rocketed up the leaderboard for the win. The final dash to the finish line wasn't without its drama however, as the ship had one of its crew go overboard along the way and had to stop to conduct a rescue. With that operation complete however, they were able to sail on to victory.
On Saturday it was
also announced
that Team Vestas 11th Hour was involved in a collision with a fishing ship about 30 miles (48 km) out from Hong Kong. None of the crew of the racing vessel were injured, but the ship did issue a Mayday distress call on behalf of the fishing ship. Nine of the crew members of that crew were rescued from the water by a nearby commercial vessel, with a tenth person being airlifted by helicopter to a hospital. He was later pronounced dead.
The details of the collision aren't yet known, but the Vestas crew immediately stopped racing, called in the incident, and helped in rescue operations. Their vessel suffered some damage to the hull but was able to sail into port under its own power. It is unclear if the damage is significant enough to prevent them from continuing nor if the crew even has a desire to press on. We'll have to wait for more information before that is determined. Race officials and the crew are cooperating with the local authorities in the ongoing investigation.
For now, all of the ships will remain in Hong Kong for some in-port activities over the coming days. The next leg of the race is scheduled to start on February 1 and is a short 100 nautical mile jaunt to nearby Guangzhou which should only take a day or so to complete. The teams will then conduct more in-port races before returning to Hong Kong ahead of the start of the sixth leg, which will be a 6100 nautical mile (7019 mile/11,297 km) race to Auckland, New Zealand. That stage will begin on February 7 and should take about three weeks or so to complete.
To find out more, visit
the official Volvo Ocean Race website
.