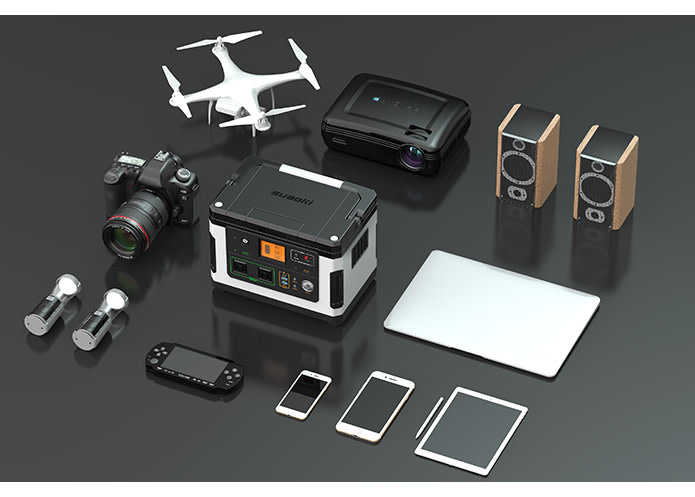 Yesterday we took a look at a new portable power bank designed specifically with drone users in mind. Today, we have a more traditional model of personal power station that delivers even more energy to your base camp, while offering pretty much all of the outlets you could possibly need to keep your expedition powered up for days at time.
The new
Suaoki G500 Portable Power Station
recently
launched on Indiegogo
and has garnered a lot of attention thanks to its massive battery, relatively light weight, and high level of versatility. This device features a 500 watt-hour lithium-ion battery, which translates to roughly 137,700 mAh. That's enough to power your smartphone for up to 90 hours or a laptop for as much as 45 hours. The G500 is even strong enough to recharge drone batteries, run a mini-refrigerator, or power an LCD projector too. In short, it is a powerful and useful tool for mobile professionals, family camping, or expedition teams heading into remote areas.
The G500 is equipped with two AC wall outlets, 2 quick-charging USB-A ports, a single quick-charging USB-C port, two 12-volt DC ports, a 12-volt car port, and an Anderson Powerpole connector. That should cover just about any kind of device you might bring with you when you hit the road, including phones, tablets, laptops, cameras, GPS devices, and headlamps.
The power station itself ships with an AC adapter to recharge it via a wall outlet and a DC charger for plugging into the cigarette lighter in your car. The G500 can be recharged in the field using a solar panel as well, allowing it to serve as a solar generator on extended expeditions. Recharging at home or in your car takes about 8-10 hours, while the time required using the sun varies depending on the solar panel, how much direct sunlight it receives, and so on.
The G500's 500Wh battery puts it tops in its class, and it is the only device in its price range and size that includes a built-in Anderson Powerpole for direct solar panel use. In fact, Suaoki is so dedicated to being able to use solar as a power source that it includes a dedicated solar charging cable right in the box. The company even included a handy LCD scree that provides quick info on remaining battery life as well as current input and output ratings.
Despite delivering so much portable power, the G500 isn't especially heavy. In fact, it tipis the scales at just 15.2 pounds (6.9 kg), which is even lighter than similar offerings from
the competition
. That makes it an ideal option for anyone who needs power on the go, and thanks to its rugged case and built-in handle, you don't have to worry about taking it with you just about anywhere you go.
The Suaoki G500 Portable Power Station is expected to start shipping in April for $599. You can preorder one now from
its crowdfunding page
however and save $100 off that price. I've been using one for a few weeks now and can attest to well built and powerful it is. For this price, it is an absolute steal for anyone who needs to keep their devices charged in remote places.